Pentatonix - VIP experience
I LOVE LOVE LOVE the Pentatonix! When I saw they were coming to NZ I sat at my computer counting down the minutes until tickets came on sale. I was a little disappointed that VIP tickets hadn't come up yet and thought maybe they weren't going to offer them in NZ. Luckily I was wrong.
So there I am sitting at my computer waiting for the tickets to come on sale again. I admit than in my excitement I didn't fully pay attention to to which package I was buying and just made sure that I bought 2 of the most expensive packages they had. I DO NOT regret that decision!
Turns out I had purchased the Private Performance VIP upgrade. This included:
Backstage Private Performance for 1 song with Pentatonix
"Selfie" with Pentatonix on your camera phone
Soundcheck Visit and Q&A with Pentatonix
One group photo taken during Soundcheck
Individual Photo op with Pentatonix (one photo per person)
Autograph session with Pentatonix (one item per person)
Photos from my experience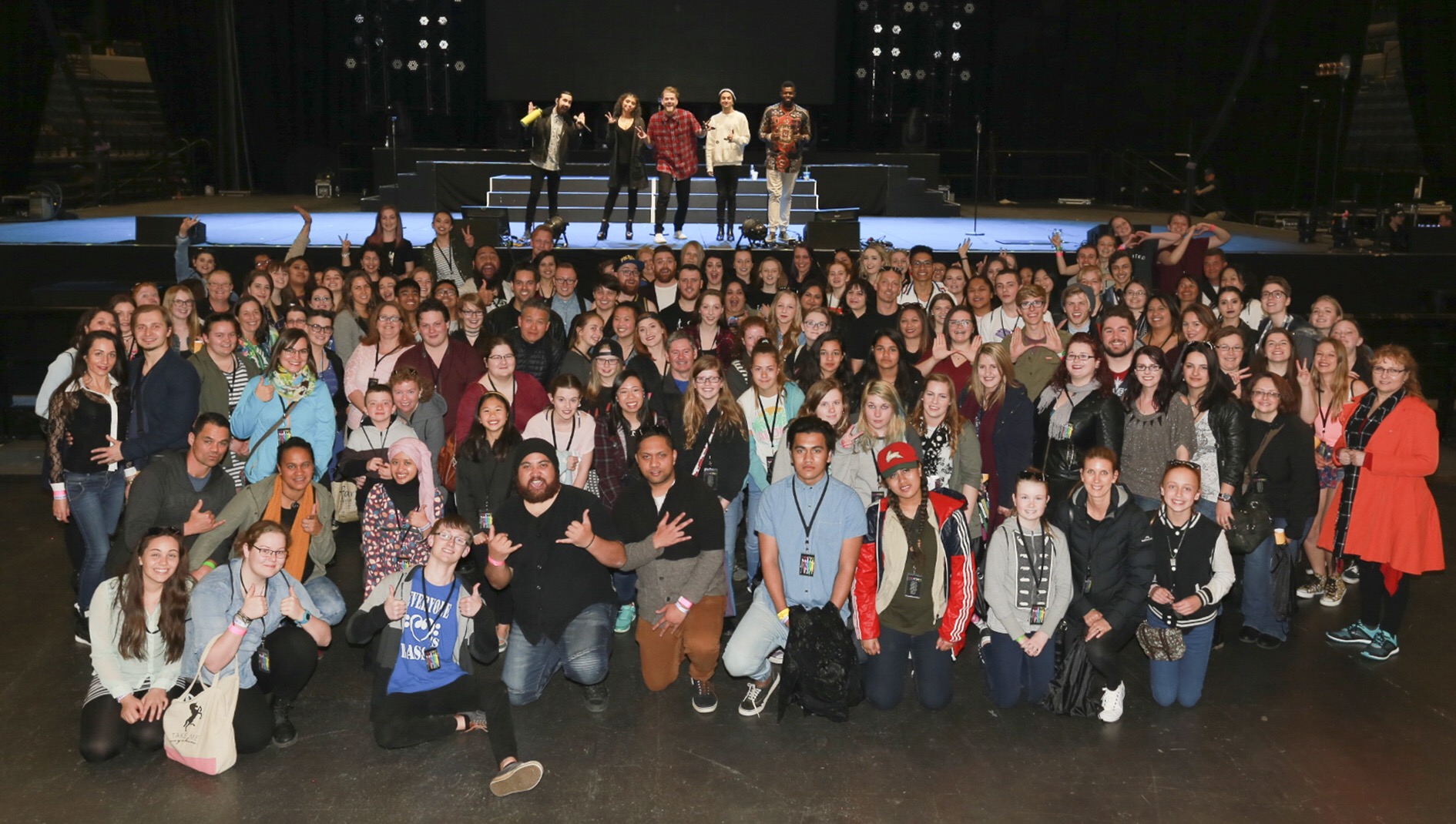 Now if you are going to go for the VIP experience be prepared to queue. A LOT! First there is the queue to get the VIP merchandise and the arm band. Then there is the queue to get back into the area. Another to get into the sound check area. Then there is a queue to get photos taken, another to get posters signed. And the last queue to get into the area for the private performance. If I had known there would be so much queuing I might have made sure to have a couple more cocktails before heading to the arena.
However still totally worth it!
So first up is the soundcheck. You queue up on the order that you were in to first get the VIP wristbands so those that were happy to line up outside the arena super early got the chance to get a front row view of the soundcheck. They sung a song and then answered questions from the audience. They were really lovely and apparently used to getting asked interesting questions!
Then it was time for the photo and meet and greet signing. We were near the front of the queue and I admit I was a little nervous and was totally blushing in my photo. You would think I would be used to being short by now but Scott is really tall and Kirstin was wearing high shoes! During the signing process I think I just weirdly grinned as they signed my poster.
At this point the group is getting smaller and smaller as next up is the private performance. About 10 of us are lead through to where they are hanging out backstage and the group gives us a super warm welcome and makes sure everyone is happy and comfortable with a seat. Then they sing take me home which live is AMAZEBALLS! I was trying really hard to stay in the moment and just enjoy the performance but wowsers I was blown away by just how they good they are live.
After that came selfies and I admit I totally went in for the hug with Kirsten even though I'm pretty sure one of their peoples had said they weren't too much into the hugging. If you ever get the chance to have selfies with them definitely let Scott and Avi take over as they have clearly had a lot of practice!
Once we are shown out we get the chance to buy merchandise before the rest of the crowd is let into the arena as well as the chance to get into the concert area ahead of everyone else. There is lots of youtube videos of what they are like in concert so I wont go into that here.
TAKE AWAY FROM THIS LONG RAMBLY POST:
If you have the chance to see Pentatonix live in concert DO IT! If you are lucky enough to have some spare cash then GO FOR THE VIP EXPERIENCE as well. It is completely worth it!